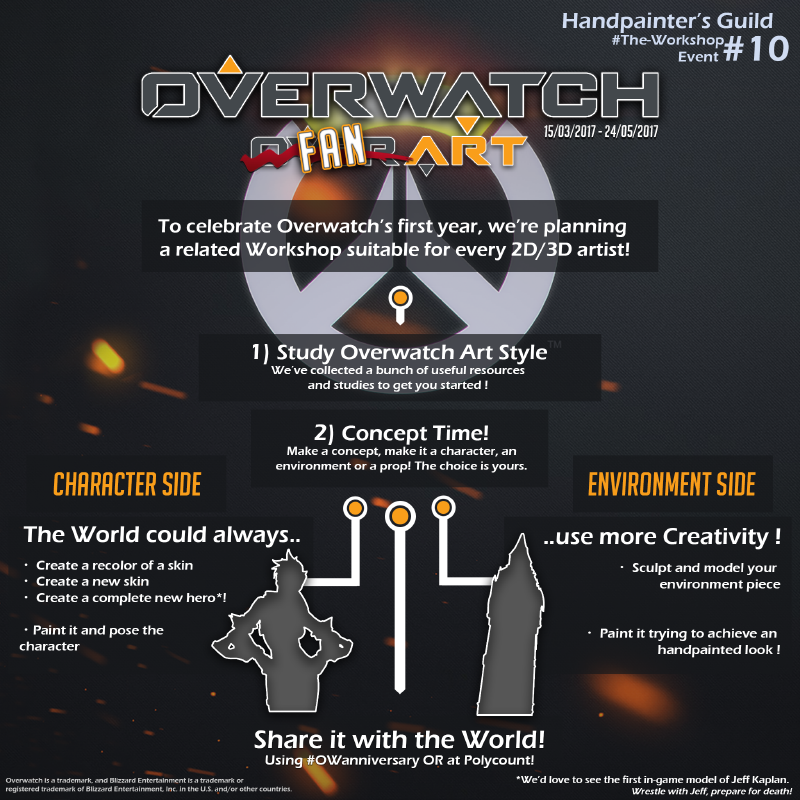 Name: Overwatch Fanart
Description: Let's celebrate Overwatch's Anniversary by creating art based on it!
Schedule: March 15 – May 24
Credit for art in announcement:
Vector graphics by Reil!
And in general, Overwatch is Blizzard's IP. 🙂
---
Guild Tutorial Collection – View our list of tutorials that can be found online to help you get started.
---
OW FanArt Workshop Resources:
Videos
• Official Zbrush Summit: https://www.youtube.com/watch?v=eGHU8DI6fo4
• The Art of 'Overwatch': http://www.gdcvault.com/play/1024268/The-Art-of-Overwatch-Evolving
Concepts
• Official Blizzard References: https://playoverwatch.com/en-us/media/
Studies
• Technical Study: http://polycount.com/discussion/170394/technical-study-overwatch-image-heavy
• Insight Overwatch Tech Art: http://www.gosugamers.net/overwatch/news/35188-interesting-insight-into-overwatch-tech-art
• OW Technical Overview: https://80.lv/articles/overwatch-technical-overview/
• OW visual in UE4: https://80.lv/articles/henric-montelius-overwatch-style-visuals-with-ue4/
---
Don't forget to share your progress on #the-workshop for critiques. And feel free to share on the guild's Facebook Group or on Twitter #hpguild where I can retweet your work!
If you are new to this site, visit the Home page for more details on how you can join!